Designer of Polaris IMS
The Designer: Build your Digital Twin and Operating Model
The module Designer (IMD) offers fast and methodical support in the different planning stages, such as product analysis, process reviewing, resource studying along with process documentation, and digital twinning.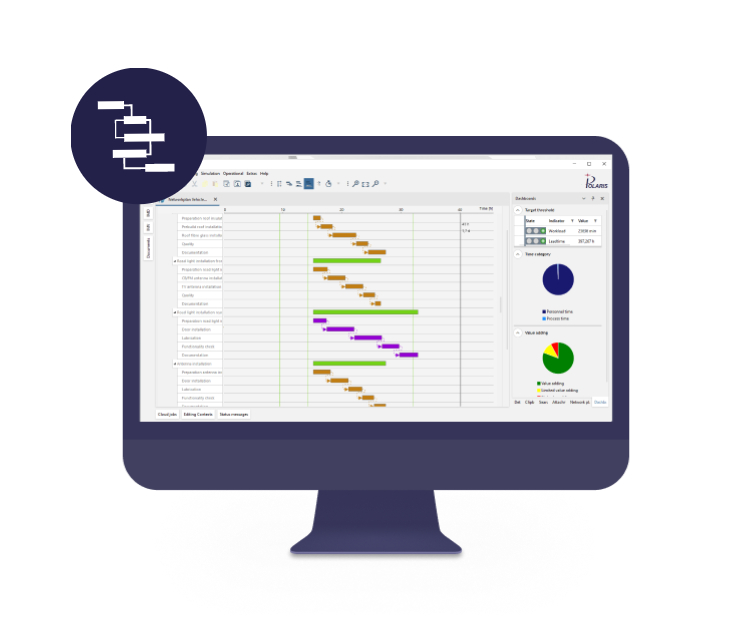 Digital Twin
Build your digital operating model and have a full overview over your organization.
Gantt Chart & Network Plan
Understand the overview of the production process and calculate the lead time of the
complete and individual processes.
Process Analysis
Perform first workload analysis to determine the minimum throughput time, the critical path and the capacity, minimize the lead time and decide on your value and non-value-added processes.
Simulator of Polaris IMS
The Process Flow Simulator: Build and Run Simulations with Numerous Scenarios
Simulate, visualize and validate all manufacturing aspects in advance with the module Simulator (IMV). Test multiple ideas and configurations and find out the optimum cost –effective production scenarios. Import data from ERP and build instant simulation for your processes.

Visualize the impact of your decisions immediately on an animated processflow. Know the exact future and present industrial behaviors, recognize the max capacity and build your process and operator flow model. Simulation Models support you in optimizing internal value streams or external complex supply chains.
Discrete Event
Strategic Decisions
Bottleneck Anticipation
Optimization
Simulation Scenarios
Save time and costs with performing multiple production scenarios. Simulate, review, and
validate all aspects of production in advance.
Bottleneck Anticipation
Detect errors and bottlenecks early and
eliminate them quickly and efficiently
without risks. Reduce cost by ensuring
that the processes are done in the right
manner from the first time.
Animated Visualisation
Build and visualize your material and operator flow in an animated version.
Maximize production rate and enhance utilizing buffer, KANBAN strategies, logistics times and means of transport.
Simulator of Polaris IMS
The Supply Chain Simulator: Build and Run multiple Simulations for your Entire Production
Simulate, visualize and validate multiple manufacturing aspects with the module Simulator (IMV). Test multiple ideas and configurations and find the optimum cost-effective production scenarios from receiving the demand to delivering to the customer.
Link multiple production areas or locations to analyze the inter-dependency, divide simulation models according to responsibilities and separation in planning.
Visualize the impact of your decisions immediately on an animated processflow on your entire supply chain. Recognize the max capacity of your supply chain. Compare your simulation results and select the optimum solution.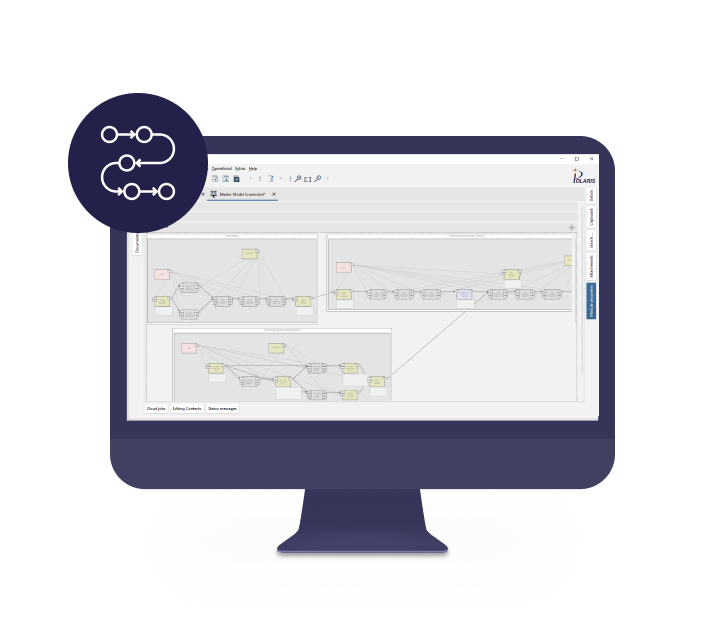 Strategic Decisions
Take fast well-founded risk-free strategic
decisions by virtual simulation of your operations.
Compare Simulation Scenarios
Fast and easy selection of different scenarios. Perform an overall analysis and supply chain simulation without creating a new model. Predict potential issues like bottlenecks,
inefficiencies very early.
Animated Visualisation
Visualize complex value chain systems and the behavior in a very easy way.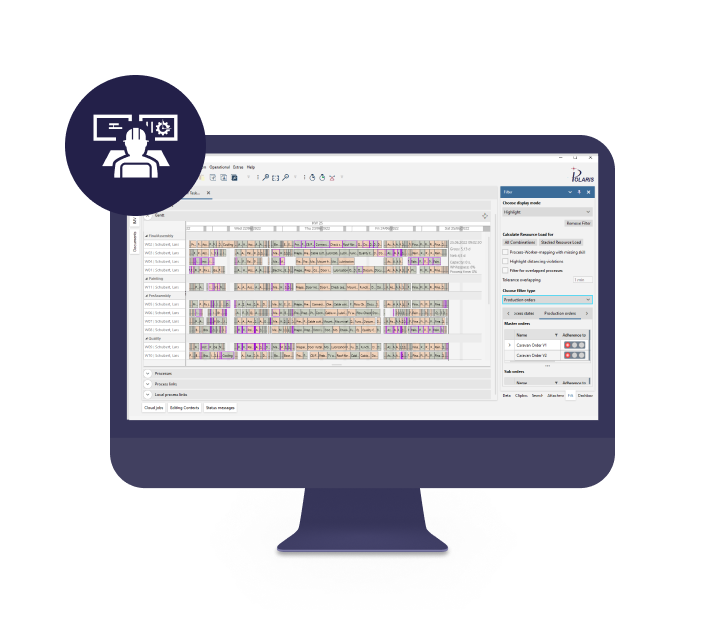 Control Center of Polaris IMS
The Line & Resource Balancer: Perform Automatic Intelligent Planning & Scheduling (APS+)
Let algorithms allocate activities to resources automatically. Perform Automatic Planning & Scheduling (APS+) and Operational Line Balancing with the module Control Center (IMC) for day-to-day planning in real-time.

Optimize your resource utilization by finding the best compromise between in-time delivery, set-up time and stock minimization even taking disruptions into account.
Automatic Planning
Build a schedule using automatic and intelligent algorithms to predict realistic delivery dates, have a faster response to changes or
disruptions, own complete visibility
to control your production.
Line Balancing
Anticipate and plan the needed capacities to match your demands. Reduce waste and
optimize the allocation of resources to get
the highest utilization of your critical skills.
Real-time Planning
Update schedules as often as needed with new data from ERP and real-time feedback from our shop floor Operator module (IMO).
Control Center of Polaris IMS
The Order Sequencer: Perform Sequencing Optimization
Optimize the sequence with regards to all production and supply restrictions and target a compromise between in-time delivery, minimum inventories and minimum set-up effort using the module Control Center (IMC).
Combine line balancing and sequencing optimization features in the Control Center to get the best results minimizing costs and avoiding bottlenecks.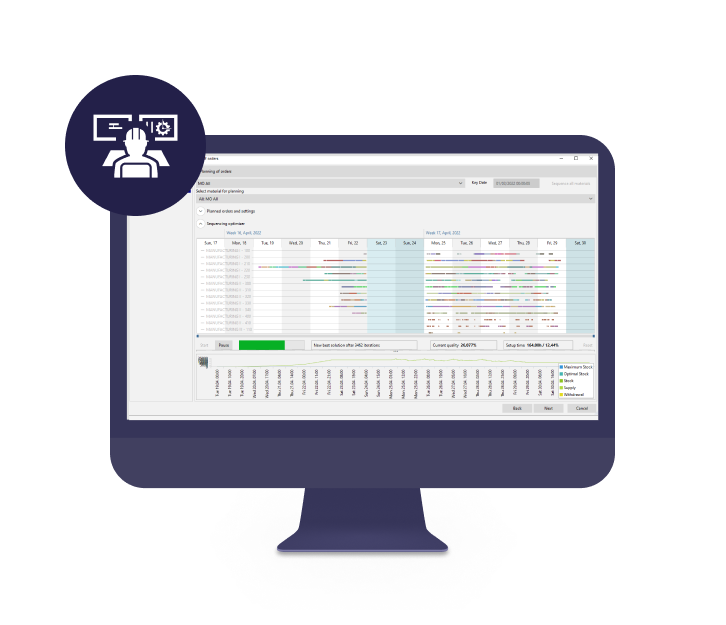 Automated Sequencing Optimization
The sequence automatically regroups orders and finds the appropriate lot size to minimize the changeover times and inventories in line with the actual demand.
Inventory Optimization
The algorithm rearranges the orders to optimize the sequence creating ideal lot sizes achieving just in-time delivery with minimum inventories.
Set-up Cost Reduction
In parallel, the algorithm automatically optimizes according to ordering variants and sequence minimum set-up needs.
Operator of Polaris IMS
The Operator: Efficient Information Flow and Real-time Feedback from the Shop Floor
Provide the whole supply chain with scheduled and sequenced activity backlogs sharing process data, work plans, and documentation via the user's interface in the module Operator (IMO).
Collect real-time operations progress, incidents and delays to contniously update your planning & scheduling input by using the browser touch-based user interface or IoT connectors.
Shop Floor Management
Communicate to any involved resource in
real-time latest execution planning & scheduling information and collect connected feedback.
Real-time Feedback
Record detailed information in context of the scheduled tasks like order completion, good
or bad parts, issues, etc.
Collect Operational Experience
Aggregate real-life experience in the context of your target plan to understand what went good or bad and learn what needs to be improved.
Analyzer of Polaris IMS
The Analyzer: Analyze your Production Data, Customize Reports, and Enhance your KPIs
Learn from continously comparing your target vs. actual performance with the module Analyzer (IMA)​​​​​. Identify critical improvement areas and take well-founded actions to close them.
With our Analyzer exchange format you can export the data to other tools of your choice, including Excel, Power BI, machine learning tools, and more.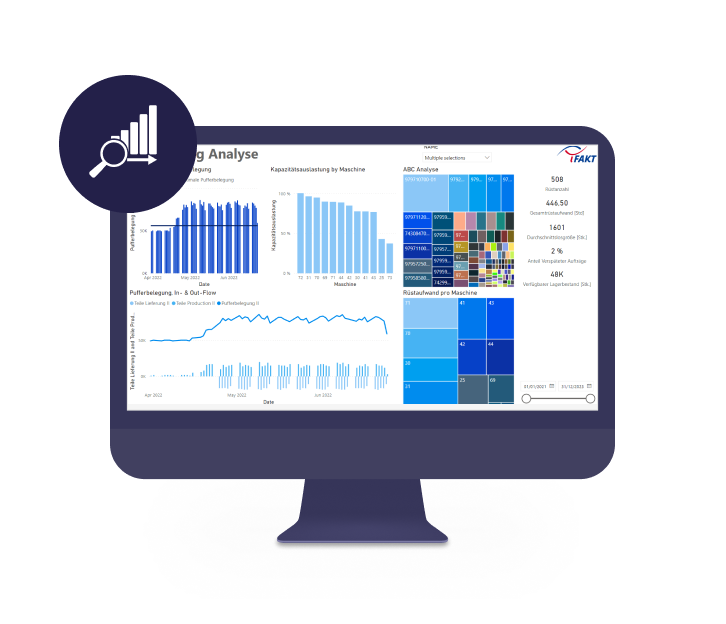 Machine Learning
Continuously learn to improve your global
delivery performance by comparing ideal
targets vs. real achievements.
Transparent Real-time KPIs
Create and update customized reports on
important KPIs to share transparent information throughout the supply chain in real-time.
Multi-data Source Integration
Integrate data from different sources to enrich the learning or reporting.